A Gunner on a Battleship in World War II
History and Memoir
by Frank "Frenchy" Letourneau,

with 162 illustrations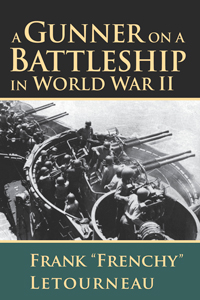 An account by a gunner's mate on the battleship Massachusetts of his experiences during action in World War II in the Atlantic and Pacific theaters.
A few months after Pearl Harbor, seventeen year old Letourneau enlists in the Navy and is trained to be a gunner's mate on a brand new battleship, the USS Massachusetts. Over the next 39 months, the ship will take part in thirteen major engagements and the young man who his shipmates have nicknamed "Frenchy" will see action in Morocco, Polynesia, the Philippines, Iwo Jima, Okinawa, and be among the first wave of Americans to land in the occupation of Japan. The intensity of the experience will leave a permanent mark, one he'll remember as "the best years of my life."
This first-hand chronicle of events is presented with illustrations of the ships, planes, places and events the young sailor witnessed. Historical notes help place the story in the context of large scale operations. The overall effect is that the reader gets a stronger impression of what the war was like than history texts provide.
Click here to go to

Amazon.com

to buy this book on-line
Or click on the "Buy Now" button to purchase this item through PayPal
$18.00 / paperback / 204 pages, with 162 illustrations /
Beech River Books / 2011 / ISBN 978-0-9825214-8-9
Frank Letourneau enlisted in the Navy soon after Pearl Harbor and had the good fortune to be assigned to a new ship, the battleship USS Massachusetts. It turned out to be a "lucky" ship; in the 39 months of duty in World War II, not one member of the crew was lost due to enemy fire. Although he had never been more than a hundred miles from home before, as a gunner's mate and plank owner on "Big Mamie" he would log over 225,000 nautical miles and travel to Morocco, Polynesia, the Philippines and Japan. He always said the four years he was in the Navy were the best years of his life and his love for the ship has stayed with him ever since.