Unexpected Colors
Poems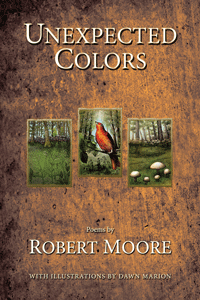 From the black on white text and illustrations in this beautiful little volume emerge flavors of music, familiar scents from nature, and artistic subtleties to provide unexpected colors that transport the reader to that sensitive space of Robert Moore's experience.
"Robert Moore's latest collection of poems, Unexpected Colors, serves as a mirror, reflecting to the reader the wide range of his interests and the breadth and generosity of his soul. His deep spirituality, encompassing all creation, shows in the first poem 'Beginnings,' with life as a ball of light tossed into the blue waters of Earth by a creator who will watch over her handiwork with patience and love. His social conscience and his ironic wit blend in the delightful 'This Is Not a Protest Song.' His dedication to science, his concern for the environment, the music engrained in him that is evidenced by the rhythm of his meters, the love with which he greets life, are all here in this fusion of the essential Robert Moore."
—Pat Parnell, author of Snake Woman and Other Explorations, Finding the the Female in Divinity and Talking with Birches, Poems of Family and Everyday Life.
Click here to go to Amazon.com to buy this book on-line
Or click on the "Buy Now" button to purchase this item through PayPal
$12.95 / paperback / 72 pages / 6 in. (w) by 9 in. (h)
Beech River Books / 2009 / ISBN 978-0-9825214-1-0
Robert Moore is a composer of songs and guitar instrumentals and performs as a guitarist and singer for the acoustic-driven group "Sylvan Roots." He is a current member of the Seacoast Writers Association, the Poetry Society of New Hampshire, and the Powow River Poets. He has taught science at Pelham High School since 1999.