Fathers and Teachers
Poems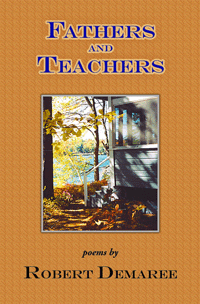 "Robert Demaree's poems are resonant, witty, and easy to love. His range of subjects brings life to every page. This is a collection of simplicity and most impressive lucidity."
–Janine Margiotta
From a daughter's graduation to a young man's funeral, from Louisiana, forlorn after Hurricane Katrina, to the pristine woods and lakes of New Hampshire, where he lives five months of the year, Robert Demaree takes us to the places and events of shared experience, in verse that is ironic, bittersweet, and always accessible. You will say, with Jillian Meyer-Bledsoe, author of Leaving Newfound and co-editor of Ghoti Magazine, "I know that place!"
THE ORANGE ROWBOAT

Morning light reaches through the pines
And bathes the end of the dock
In a distant August warmth
I watch my daughter and her son
Set out in the orange rowboat
Against a deep blue ripple,
Oars upturned, catching the sun's glint.
I hear her tell him to sit in the middle.

Things have changed here some:
Cabins replaced by trophy homes,
Kayaks by jet skis.
We have kept the orange rowboat.
Late in life my mother
Loved to ride along the shore
Once she tipped us over,
Reaching for the dock, and I
Pulled her, frail bird, from the water.

This afternoon we go to a funeral,
A friend of my mother's,
The last of their generation on the pond.
A hundred years of living are recalled,
The comfortable words spoken
By people who had not known her.
I wanted to tell her son:
I know where death's sting is.
We pause on the steps, the limo waiting,
They were a couple of tough old girls,
Is what I told him.
Click here to go to

Amazon.com

to buy this book on-line
$12.95 / paperback / 80 pages / 5-1/2 in. (h) by 8-1/2 in. (h) / Beech River Books / 2007 / ISBN 978-0-9793778-1-5.
Robert Demaree was born in Pennsylvania and spent forty-two years as a teacher and administrator in schools in Georgia, Virginia, Louisiana and North Carolina. He is the author of Lo, Hearts Behold: A History of Greensboro Day School, two collections of poems, articles in educational journals, and more than 250 poems published or accepted by seventy periodicals.
Bob and Martha, his wife of more than forty years, reside seasonally in Burlington, NC and Wolfeboro, NH. They have two children and five grandchildren.