Eco Civilization 2140
A twenty-second century history and survivor's journal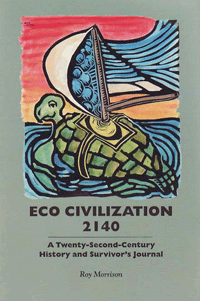 Roy Morrison offers a compelling blueprint for building a sustainable ecological civilization by applying a smart, not painful, prescription to today's troubled industrial world. He calls for abolishing income taxes and instead taxing pollution, unlimited growth through trade in information, investing in jobs through a National Trust bank, and ending welfare and poverty through a negative income tax linked to national service
Eco Civilization 2140 is set in the small town of Warner in the year 2140 after the great ecological crisis of the 21st century has passed. It is a peaceful time, where 150 years old is middle age, where virtual reality and the world wide web allows us to snorkel in the Great Barrier Reef from our living rooms and where we grow crops as inputs for nanotech production.
"Eco Civilization 2140 is a brilliant, practical recipe for extricating ourselves from impending failure. This kind of imaginative thinking promises a blueprint for success."
—Phil Bosserman, author of More of Us Than You Think
"Chock full of ideas of tomorrow that we can use today, Eco Civilzation 2140 is a remarkable work of imagination and vision."
—Sonia Shah, author of Crude: The Story of Oil
Click here to go to Amazon.com to buy this book on-line
$12.95 / paperback / 105 pages /
Writer's Publishing Cooperative / 2006 /
ISBN-10: 1-930149-37-9
ISBN-13: 978-1-930149-37-3
Roy Morrison is an energy consultant, writer and cooperative organizer. He is involved in pioneering work in developing wind hedges and was a former leader of the Clamshell Alliance that used non-violent action to oppose the construction of the Seabrook nuclear power plant. His web page is www.roymorrison.net.