Letters of The Times
Second Edition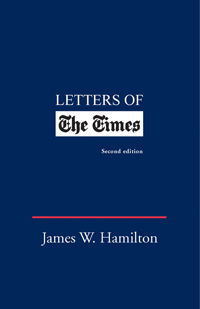 This book consists of letters to the editor of the New York Times and other newspapers covering a wide range of events and issues from the mid-'60s to 2010. A number have been published, most have not. The material raises vital questions about the behavior of the press in a democracy, not the least how "the newspaper of record" determines editorially "without fear or favor" what news is fit to print and the emphasis to be placed upon a particular story.
"These astute…letters provide an interesting perspective on world events and what few of us hear about them"

—Noam Chomsky, author of Manufactured Consent and Hegemony or Survival

"…an incisive and iconoclastic, highly intelligent and sometime wickedly humorous critique of U.S. global policies since the 1960s. This lifetime of letters by an uncompromising James Hamilton to the New York Times will give readers new insights into the foibles and failures not only of our government's policies, but also of the Times' efforts to sugar-coat the news far too often in ways pleasing to the nation's elites."

—Bill Christison, former Director, C.I.A. office of regional and political analysis

"James Hamilton letters to the Times delightfully challenge that arrogant keeper of the historical record, correcting its history, criticizing its shallow analysis. He speaks for all of us who have wanted to do just that. If the Times watched over the government as Hamilton watches over the Times, we would have a vibrant democracy and a truly free press.."

—Howard Zinn, historian and author of A People's History of the United States and You Can't Be Neutral on a Moving Train
Click here to go to

Amazon.com

to buy this book on-line
Or click on the "Buy Now" button to purchase this item through PayPal
$21.95 / paperback / 308 pages / 5-1/2 in. (w) by 8-1/2 in. (h)
Beech River Books / 2010 / ISBN 978-0-9825214-7-2
James W. Hamilton is a physician and writer living in Sante Fe, New Mexico. He has numerous articles in professional journals on clinical and theoretical subjects as well as in non-medical periodicals on various socio-political phenomena. He is also the author of Life and Art: The Creative Synthesis in Literature (Karnac, 2009).