Color Wheel Journal,
Volume 7, Number 1,Spring/Summer 2006
Editors: Fred Moe and Brad Marion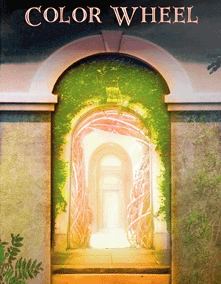 A journal celebrating literary and fine arts in a metaphysical world.
We dedicate this issue to Steve Diamond, a kindred spirit on the metaphysical journey. Please read our tribute to Steve, who passed away between the time of his submissions and this publication of his work.
Steve has two pieces in the current issue, a short poem and a prose piece about a trip he took to Iceland, called "The Wand and the Lake." Steve is on a mission to establish an international forum for peace and visits the Thingeviller, a natural amphitheater carved into the rocky slopes on the shore of a thirty mile wide lake. The Vikings once held tribunals and dealt out justice here, which often involved drowning pools on the spot. Steve describes an eerie encounter with the spirits of the place.
In a Color Wheel exclusive, we present two poems simulataneously published here and in Charles Churchill's new book Early Settlement and Other Poems, together with the accompanying illustrations by Dawn Marion. These poems describe the author's reflections on old cellar holes and stone walls now overgrown in the woods. He goes on in his book to populate the rural farming community that once existed here with characters that seem far more real than fictional.
Luanne Baker describes a near death experience and her rescue by a mysterious Indian emblem...with an unexplainable twist.
In "A Catechism of Silence," Walt McLaughlin takes us along on a fishing trip that is perhaps more of a pilgrimage to the remote and quiet regions of nature and the soul where a certain process of transformatin and healing takes place.
Rick Whaley depicts a different kind of process for resolving differences and moving forward than the strong-armed methods we often see used in political circles. He uses an image from Native American tradition to show how inclusiveness can be accomodated and the circle widened so that more voices get heard.
Plus...
Poetry by Robert Demaree, Thomas Diegoli, Anthony Gayle, Blair Heald, Dudley Laufman, Corey Mesler, Walden S. Morton, Yvonne Novom, Graham Nunn, Melody Sage, Peter Schwartz and Michael Tritto...all in that special voice that you've come to recognize and expect in Color Wheel.
We hope you enjoy our cover design, titled Temple of the Soul by Ethan Marion, paintings by Dawn Marion, and photography by Mark Diamond, Benjamin Harrison, Debbie McCallister, Evan Nash, Natalie Peterson, Christopher Templeton and Brad Marion.
$12.00 / paperback / 96 pages / Beech River Books / 2006 / ISBN 0-9776514-3-6.
Color Wheel has been in publication since 1990, including occassional periods of hiatus and restructuring. We seek to present the most creative work of fine literary and artistic quality, especially pieces that provoke deeper reflections on our personal condition and the physical and metaphysical world in which we live.