Searching for Joy
Fiction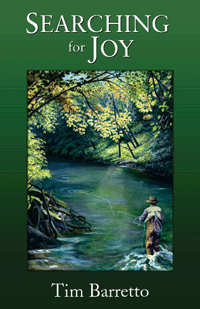 "Tim Barretto's novel successfully navigates both the private waters of the inner self and the compensatory concrete joys of daily life. Tempered by the sense of mortality that stalks us all, hope somehow prevails despite the long-shot odds. A thoughtful yet tough-minded work of fiction, his book resonates with courage and reflective wisdom yearning for redemptive closure. "
–Steve Hickoff
Sixty year old self-employed architect Tom Derringer has always been a confident, self-assured man. But when he discovers he has prostate cancer his confidence is shaken, and he is forced to confront the meaning of his life and the possibility of his death in ways he has never done before. In the process he must come to understand—and come to terms with—himself, his wife and his son.
A novel told in a sensitive prose that particularly emphasizes the relationship of fathers and sons. With vivid scenes of skiing, fly-fishing, hiking and baseball, Barretto, (a UNH writing professor), shows how learning to enjoy life and to have a passion for living is one of the finer gifts one generation can pass on to another.
Click here to go to

Amazon.com

to buy this book on-line
Or click on the "Buy Now" button to purchase this item through PayPal
$18.00 / paperback / 206 pages / 5-1/2 in. (w) by 8-1/2 in. (h)
Beech River Books / 2007 / ISBN 978-0-9793778-4-6.
Tim Barretto teaches writing, speaking, and literature at the University of New Hampshire's Thompson School of Applied Science. He and colleague Kate Hanson co-founded the Community Leadership program at the school in 2001 as a way of helping students interested in becoming activists and community leaders to find and develop their voices. His creative work includes short stories published in literary journals and a one-act play about bullying that was performed at several schools in New Hampshire's Strafford County. He has spent most of his adult life pursuing ways to eliminate child abuse, and in that pursuit has served as a passionate advocate for children. When he has free time, he loves to spend it outdoors fishing, hiking, or skiing with family and friends. He lives in Dover, NH, with his wife, Mary.