Walleye Warriors
The Chippewa treaty rights story
Revised edition, 2000
by Rick Whaley and Walt Bresette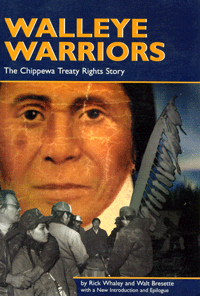 Walleye Warriors tells the story of how an alliance of concerned people helped defuse violent confrontations against the Chippewa of northern Wisconsin. It is an important addition to the literature on treaty rights, civil rights, environmental protection, and sustainable economic development.
* * * * * * * * * * * * * * * * * * * * * * *
From the Introduction: WALLEYE WARRIORS
By Walt Bresette
AN OBSCURE COURT RULING in early 1983 in favor of the Lake Superior Chippewa, a Woodland Native nation in the upper Great Lakes, turned into a violent struggle against Chippewa people and their exercise of off-reservation harvesting rights.This treaty rights battle garnered national and international attention, with the media focusing on the racism and conflict of sports versus subsistence fishing. This is the story behind that media event that began on January 25, 1983. Beyond the headlines and symptoms of the problems, we offer a perspective on the social, political, economic and environmental earthquake that hit Wisconsin in the 1980s. It is a story of various groups responding, sometimes violently, to the court ruling and of new people responding to that violence. It is a tale of fear, political denial, and the attempted looting of Chippewa rights and northern Wisconsins resources. It is a tale of vile and violent racism and of official plundering of law, with a near "old west" mentality overtaking Wisconsin. And it is a tale that speaks of other violence, other stories, other similar forces, where people and earth are victimized.
* * * * * * * * * * * * * * * * * * * * * * * * * * * * * * * * * * * * * * * * *
Click here to go to Amazon.com to buy this book on-line
Or click on the "Buy Now" button to purchase this item through PayPal
$25.00 / paperback / 290 pages / 6 in. (w) by 9 in. (h)
Tongues of Green Fire Press / Writers Publishing Cooperative / 1994 /
ISBN 10: 1-930149-00-X
ISBN 13: 978-1-930149-00-7
Rick Davidson is a public school teacher, award-winning professional photographer and sometime guitar player. For many years, Rick wrote a popular newspaper column about photo tips and operated Davidson Photography and Video along with his wife, Jane. He holds a B.A. from Bowdoin College in philosophy, with a minor in English Literature. Rick and his wife have traveled extensively throughout Europe and lived near Stuttgart, Germany for over seven years. They now enjoy their rural home in Freedom, New Hampshire. His web page is www.rick-davidson.com.