The Story of Your Life
Writing a Spiritual Autobiography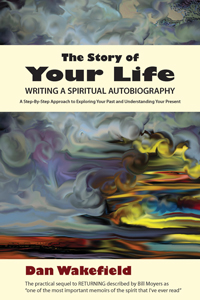 A Step-By-Step Approach to Exploring Your Past and Understanding Your Present
Who am I? Why am I here? What is the meaning of my life?
Taking time to ask these questions, which often linger unexamined at the back of our minds, can be the first step to new growth, healing and maturity. In The Story of Your Life, Dan Wakefield shows us how to write about and share our most meaningful life experiences, and in so doing to see our lives in a new light.
Wakefield shares experiences from his own remarkable life as well as touching stories told by people who have participated in spiritual autobiography workshops he has led. Through exercises such as drawing a favorite childhood room, describing a mentor or friend, or sketching a road map of your life, you will begin to understand the factors that help define your own spiritual journey.
Dan Wakefield won much praise for his own spiritual autobiography, Returning, which chronicles his dramatic return from drug and alcohol abuse and isolation. His many books include the bestselling novels Going All the Way and Starting Over. Creator of the widely acclaimed TV series "James at Fifteen," Wakefield has lived in Boston, Miami, and Indianapolis.
"What a wonderful book is Dan Wakefield's The Story of Your Life. Surely it will help many people to write their own spiritual autobiographies, and so to become more aware of their own journeys. Many of the stories shared in this book are not only deeply moving, but challenging, too. And I suspect that many readers are going to want to take one of Dan Wakefield's workshops in writing your spiritual autobiography. Thanks for publishing this stimulating book."

—Madeline L'Engle, author of A Wrinkle in Time

"The Story of Your Life introduces us to a wonderful technique for making religion relevant."

—Harold Kushner, author of When Bad Things Happen to Good People

"What an honest, direct, and magnificent book! I was often moved to tears by the deep sense of connectedness and meaning that the stories evoked in me. The process of spiritual autobiography affords a kind of bird's eye view where even life's dark streets and blind alleys can be appreciated as an integral part of our journeys' rich wisdom. The writing and sharing of spiritual autobiography is one of the simplest and most healing practices we can undertake."

—Joan Borysenko, author of Mending the Body, Mending the Mind
Click on the "Buy Now" button to purchase this item through PayPal (preorder)
$16.00 / paperback / 188 pages /
Beech River Books / 2012 / ISBN 978-0-9839367-0-1
Dan Wakefield is a novelist, journalist and screenwriter who grew up in Indianapolis and graduated from Columbia College in New York City. His books include Returning: A Spiritual Journey, The Story of Your Life: Writing A Spiritual Autobiography, Creating from the Spirit: A Path to Creative Power in Art and Life, How Do We Knows When It's God?, Going All The Way, Starting Over and New York in the Fifties. Some of his writing has been used as the basis for films and documentaries. He created and served as Story Consultant for the NBC prime time series "James at Fifteen." He is the recipient of The Bernard DeVoto Fellowship at The Bread Loaf Writers Conference, a National Endowments for the Arts Award, a Rockefeller Foundation Grant in Writing, and a Nieman Fellowship in Journalism at Harvard. Wakefield served as Writer in Residence at Florida International University from 1994-2010 and continues leading his writing workshops around the country. He may be reached at his website, www.danwakefield.com.