An Icy Reception
A Kary Turnell mystery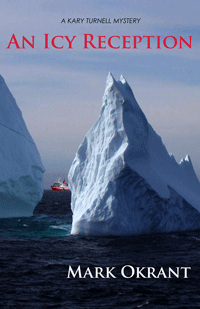 Professor and former crime reporter, Kary Turnell, sets sail on an Arctic adventure cruise aboard the MS Explorer. While the passengers are preoccupied with the shimmering spectacle of the Northern Lights and daunting vistas of Baffin Island, one individual seizes the opportunity for murder. The clues are few and the trail is rapidly growing cold as Kary and a hastily assembled team of volunteer investigators tries to reveal who pushed a guest into the frigid water below. Can Kary solve another resort caper before the floating crime scene docks at the next port, while attempting to regain the trust of a daughter who seems determined to make him pay for past mistakes?
"Mark Okrantís new mystery has as many levels as the MS Explorer—the ill-fated expedition vessel aboard which the plot unfolds. As we follow Professor Kary Turnell through the twists and turns of his sleuthing, we are treated to a virtual Arctic eco-tour, complete with Inuit artists. This is the closest you can get to sailing the northern seas without donning a life jacket!"
—John Houston, Director, The White Archer
Culturalist on Adventure Canada Arctic sailings
"In An Icy Reception, Mark Okrant weaves a thrilling tale of murder, love, self-discovery and family drama. Mystery and adventure go hand in hand as Kary Turnell ventures into the far reaches of Canadaís vast Arctic aboard the little red ship, MS Explorer. Having spent years leading groups into Nunavut, I marvel at how Mark depicts Karyís efforts to adapt to people and circumstances vastly different from the New Hampshire hills he calls home."
—Cedar Bradley-Swan, Vice President, Adventure Canada
Click here to go to Amazon.com to buy this book on-line
Or click on the "Buy Now" button to purchase this item through PayPal
$19.95 / paperback / 280 pages / 5-1/2 in. (w) by 8-1/2" (h)
Beech River Books / 2010 / ISBN 978-0-9825214-6-5
Mark Okrant is a professor at Plymouth State University in New Hampshire. He has been an active tourism researcher since the mid-1970s, having plied his trade in South Dakota, New Hampshire, Maine, Alaska, Canada and Romania. Mark is past president of the prestigious Travel and Tourism Research Association. He is the author of the mystery Judsonís Island and Sleeping Alongside the Road (recollections by patrons and owners of motels), and two other Kary Turnell mysteries: I Knew You When and An Icy Reception.