Art 4 All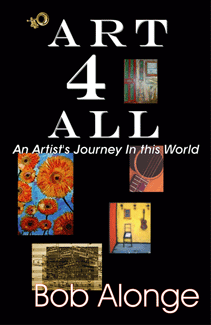 "Art is truly inherent in every person..."
Bob Alonge tells the story of the creation of New Songs Art Center and the story of his own evolution as an educator, artist and facilitator. His mission is to make art available and accessible to all, to try to bring art "to us" as an experience so that it flows "through us" and ultimately "out of us." This experiential approach is different from the traditional approaches to art education and applies not only to the visual and fine arts but to music, crafts, and other media and forms where creative expression is paramount.
Alonge sets forth a model for a community center that fosters artistic interaction among all ages, modes of expression, and ranges of experience and shows how his personal growth has been affected by the gradual realization of this vision.
Click here to go to Amazon.com to buy this book on-line
$14.95 / paperback / 150 pages / Beech River Books / 2006 / ISBN 0-9776514-2-8.
Bob Alonge is a life-long teacher who has begun to express his talents in art, music and writing in ways that were long suppressed. He is an activist and teacher at the New Song Arts Center in Rockland, Mass.