Other Ladders
New and Selected Poems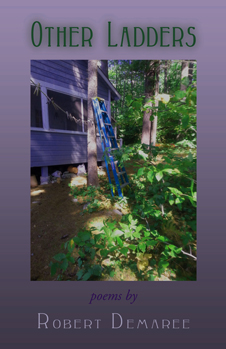 In his fourth book-length collection, Robert Demaree continues to examine lives anchored in time and place, poking gently at small ironies in the world around us, the minor epiphanies of everday living. The settings range from growing up in Pennsylvania, to summers in New England, and to retirement at Golden Pines in North Carolina. The actual landscape is the geography of experience, the regions of the heart.
Critics and editors have found Demaree's poems imbued with a quiet wisdom, patient precision, a gift for describing the rituals of place, a mastery of diction and voice, and an art that presents a briefly stable moment in delicate relief, poems in which we feel at home, that demand further consideration.
"Demaree has a way of turning the ordinary into the extraordinary, and it is this awareness that helps us better appreciate the special uniqueness of every moment."
—Barbara Bald, author of Drive-Through Window, Running on Empty. and Other Voices Other Lives

"Here, in his clear, direct style, the poet draws the reader into a deep and abiding sense of connectedness."
—Kathleen Coe, author of Cumulae
Click here to go to

Amazon.com

to buy this book on-line
Or click on the "Buy Now" button to purchase this item through PayPal
$12.95 / paperback / 81 pages / 5-1/2 in. (w) by 8-1/2 in. (h)
Beech River Books / 2017 / ISBN 978-0-9839367-9-4.
Robert Demaree is the author of four collections of poems, including After Labor Day (2017), and two chapbooks. He has had over 650 poems published or accepted by more than 150 periodicals. A retired school administrator with ties to North Carolina, Pennsylvania, and New Hampshire, he has also written a history of Greensboro Day School.