Early Settlement and Other Poems,
hardcover edition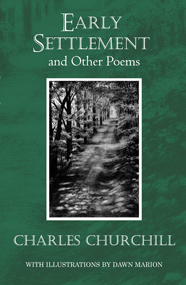 "Beyond the mill, across the bridge, old roads / meander to the farther hills, and some / grow dim, then vanish in the shade of trees. "
Charles Churchill takes us into the mountains of Porter, Maine where his poetic imagination has long been stirred by the remains of old cellar holes, representing the fall of an agrarian way of life to the working of the Industrial Revolution. Children, viewing the hardships endured by their parents, walked out to the towns, the mills, the social life. When their parents were no longer able to keep up their homes, they moved in with their children "downtown."
The pace and mood of Churchill's poetry gives voice to the story of individual lives marked by the land, the times, the dignity and suffering and convey a sentiment for humanity and for rural New England that few others have captured. Dawn Marion's illustrations add to this rich texture of beauty, ruin, humor, nobility and desperation.
Click here to go to Amazon.com to buy this book on-line
Or click on the "Buy Now" button to purchase this item through PayPal
$24.00 / hardcover / 70 pages / 5-1/2 in. (w) by 8-1/2 in. (h)
Beech River Books / 2006 / ISBN 0-9776514-1-X.
Charles Churchill taught English at Kingswood Regional High School in Wolfeboro, N.H. for over twenty years. He currently resides on the shores of Colcord Lake just outside of the small village of Porter, Maine.