Creating from the Spirit
A Path to Creative Power in Art and Life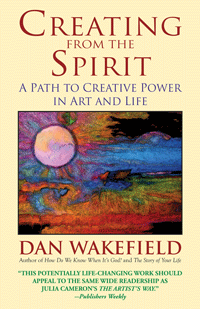 In this passionate, clearly reasoned book, award-winning journalist and novelist Dan Wakefield explodes the many myths often associated with the mysterious creative process. Drawing on examples from religion, philosophy, and literature and exercises such as journaling and right-brain drawing, Creating from the Spirit teaches us that the key to creation is clarity of body, mind, and spirit. Wakefield also challenges the "dangerous nirvanas" of drugs and alcohol as false agents of inspiration.
Creating from the Spirit teaches anyone who wants to become more creative how to access our natural perceptions and hidden resources, a process brilliantly expressed in the lives and words of twenty "creators from the spirit." Wakefield interviews artists and writers, scientists and athletes, CEOs and chefs — all of whom have learned to embrace each moment as a creative act. Now you can, too.
"This potentially life-changing work should appeal to the same wide readership as Julia Cameron's The Artist's Way."

—Publishers Weekly

"This book will stretch your mind and help you find the source of your own spiritual and creative powers."

—Yoga Journal

"Full of examples of sanity, balance, and even full-time employment cohabitating happily with creative callings."

—Utne Reader

"Compulsively readable….This book [is] so inspiring."

—Heart Dance
Click here to go to

Amazon.com

to buy this book on-line
Or click on the "Buy Now" button to purchase this item through PayPal
$21.95 / paperback / 334 pages, with index / 5-1/2 in. (w) by 8-1/2 in. (h)
Beech River Books / 2010 / ISBN 978-0-9825214-4-1
Dan Wakefield is a novelist, journalist and screenwriter who grew up in Indianapolis and graduated from Columbia College in New York City. His books include Returning: A Spiritual Journey, The Story of Your Life: Writing A Spiritual Autobiography, Creating from the Spirit: A Path to Creative Power in Art and Life, How Do We Knows When It's God?, Going All The Way, Starting Over and New York in the Fifties. Some of his writing has been used as the basis for films and documentaries. He created and served as Story Consultant for the NBC prime time series "James at Fifteen." He is the recipient of The Bernard DeVoto Fellowship at The Bread Loaf Writers Conference, a National Endowments for the Arts Award, a Rockefeller Foundation Grant in Writing, and a Nieman Fellowship in Journalism at Harvard. Wakefield served as Writer in Residence at Florida International University from 1994-2010 and continues leading his writing workshops around the country. He may be reached at his website, www.danwakefield.com.