Two Birds in Flame
poems inspired by Shaker themes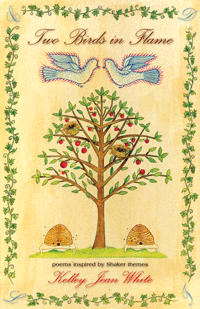 A collection of "found poems" based around an artifact—an auction catalog that includes both rare and everyday objects made or used by Shakers. The author writes her poems "in the spirit" of the women who might have created such objects.
"In Kelley Jean White's Shaker poems, "because everything is loved, everything speaks" (Charles Baxter). White is a poet who loves and listens so deeply to the world that she discerns its hidden voice. To the Shakers, creation was worship, and their baskets, cloaks, and benches—and in White's hands, even their shawls, handkerchiefs and bones—are not objects but "Gifts received from worship." White's language of gentle irony, humor and nostalgia is a gift of the voices she conjures up in this book. Read her poems and slow down. Read them and remember the Shakers, who were in their own time diminished as quaint folks to "wonder at;" and who are, now, dismissed as creators of objects to place on the auction block."
—Helen W. Mallon, author of Bone China
"Kelley Jean White's subject is life as it's lived in all its complexity, beauty and sadness. She uses her craft and insight to clear away the weeds and briars that grow up around us. What remains are not monuments, but gardens."
—Rob Wright, recipient of a Pennsylvania Council on the Arts grant in poetry in 2006
Click here to go to Amazon.com to buy this book on-line
Or click on the "Buy Now" button to purchase this item through PayPal
$12.95 / paperback / 100 pages / 5-1/2 in. (w) by 8-1/2 in. (h)
Beech River Books / 2010 / ISBN 978-0-9825214-3-4
Kelley J. White is a physician who practices at a rural health center in northern New Hampshire. She is the author of four poetry collections, The Patient Presents (2000), Late (2005), Living in the Heart (2006), Toxic Environment (2008), and four chapbooks. She was the recipient of a 2008 Pennsylvania Council on the Arts grant in poetry. Dr. White is a graduate of Dartmouth College and Harvard Medical School. She was a member of Philadelphia's Germantown Quaker Meeting and praticed pediatrics at a community health center in the inner city for more than twenty-five years before returning to Gilford, New Hampshire, where she grew up.