Kelley J. White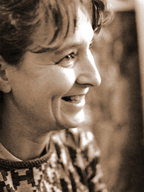 Kelley J. White, M. D. grew up in Gilford, New Hampshire and is a graduate of Dartmouth College and Harvard Medical School. A member of Philadelphia's Germantown Quaker Meeting, after more than twenty-five years of pediatric practice at a Community Health Center in the inner-city, she now practices at a Rural Health Center in New Hampshire's North Country.
Since 2000 she has published poems in a wide range of journals including Exquisite Corpse, Nimrod, Rattle, Poet Lore, and the Journal of the American Medical Association and has published four full-length poetry collections, The Patient Presents (2000) and Late (2005), both from The People's Press, Living in the Heart (2006, Word Press), Toxic Environment (2008, Boston Poet Press) and four chapbooks, "I am going to walk toward the sanctuary" (2001, Via Dolorosa Press), "Against Medical Advice" (2004, Pudding House), "A Gilford Offering" (2004, Finishing Line Press), and "Rule of Thumb" (2005, The Cynic Press), winner of the Cynic Prize.
Former poetry editor for The Schuylkill Valley Journal of the Arts, her poetry has received eleven Pushcart Prize nominations and is included in two recent anthologies of physician poetry: Body Language: Poems of the Medical Training Experience (2006, Boa Editions) and Primary Care (2006, University of Iowa Press). Her poem, "Pandora," from her first collection, The Patient Presents and included in the Body Language anthology, was read in January 2007 by Garrison Keillor on National Public Radio's Writer's Almanac. She was the recipient of a 2008 Pennsylvania Council on the Arts grant in poetry.
Two Birds in Flame (Beech River Books, 2010) is a collection of "found poems" based around an artifact—an auction catalog that includes both rare and everyday objects made or used by Shakers. The author writes her poems "in the spirit" of the women who might have created such objects.