Frank Letourneau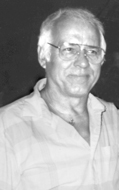 Frank Letourneau was born in Epping, New Hampshire on October 12, 1924, the oldest of eleven children. He was forced to quit school to work and help support the family. Soon after Pearl Harbor, he enlisted in the Navy and had the good fortune to be assigned to a new ship, the battleship USS Massachusetts. It turned out to be a "lucky" ship; in the 39 months of duty in World War II, not one member of the crew was lost due to enemy fire. Although he had never been more than a hundred miles from home before, as a gunner's mate and plank owner on "Big Mamie" he would log over 225,000 nautical miles and travel to Morocco, Polynesia, the Philippines and Japan. He always said the four years he was in the Navy were the best years of his life and his love for the ship has stayed with him ever since. He has been to almost every one of the ship reunions that have taken place every year since the end of the war and was president of the crewmembers association from 1962–64. During this time Navy crewmembers and people of Massachusetts began raising money to save the ship from being scrapped and to bring her from Norfolk, Virginia back to the Boston area.
Letourneau married soon after the end of the war and had four children. He worked as an apprentice glazier to learn the glass installation business and started his own company in the early 1950s. In the 1970s, his son took over the business and he moved on to the locksmith trade. In 1974, he remarried and in the 1990s the couple relocated to Conway, New Hampshire, where he continues to work as a locksmith. Many of his crew mates have passed on, but Letourneau hopes his memories of the war will help future generations picture it from a young sailor's point of view.
A Gunner on a Battleship in World War II (Beech River Books, 2011) is an account by a gunner's mate on the battleship Massachusetts of his experiences during action in World War II in the Atlantic and Pacific theaters. This close-up view of a sailor's life includes historical notes and 162 illustrations.