Ivan G. Burnell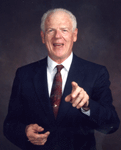 Ivan Burnell has been inspiring people to achieve more than they ever dreamed possible for the last thirty years. He was born in Brooklyn, New York in 1929 and grew up with an intimate knowledge of the depression and of its effects on peoplesí minds. Early in life, he joined a family-owned manufacturing business, where he was able to use his innate engineering skills and develop a management style that promoted top quality, timely production work, and self-confident workers.
After acquiring a degree in engineering, he went on to other challenges, including a stint as a consultant to NASA while it prepared for its first manned flight to the moon. He has also worked as chief engineer, insurance agent, farmer, rancher, retail store owner, and vice president of manufacturing.
In 1978, he started his own company, International Personal Development, and compiled his experience into a set of courses called the YES program. A truly effective program, YES has helped thousands of people around the world make their lives happier and more fulfilled. These people were the motivation for Ivanís first book, Power of Positive Doing, which has had numerous printings in several languages and countries. He created a six-tape cassette series based on the book called The Yes Factor. Other books are Say Yes to Life and Road to a Happier Marriage, the latter written at the instigation of students who had benefited from his courses and witnessed his happy marriage. It includes real-life stories that pinpoint certain areas of relationships that people often ignore while they are courting, but then have to face later.
Ivan lives in Center Ossipee, New Hampshire with his wife, Dagny. He teaches the advanced program and develops new teachers for the YES program. He is also a professional speaker and consultant, helping companies to develop management and sales techniques that will bring them happy, motivated employees and therefore, successful, profitable businesses.
For more information visit www.yesfactor.com.
Living in the Unlimited Universe (Beech River Books, 2009) is a self-help book that guides the searcher beyond a view of beginnings and endings, disappointment and failure, to a new worldview of unlimited possibility. It describes a program to scrutinize and work through persistent problems and provides the tools and insights to reach the potential of your dreams.