Catamount, A North Country Thriller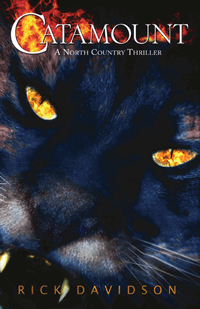 Manís sacrilegious infringements on Natureís delicate balance calls down a forgotten Indian curse and releases a raging mountain lion, a catamount, into the North Woods. This creature is not supposed to be here and is not supposed to prey on humans, but two young children and their dog pick up its trail behind an isolated summer camp not far below the Canadian border. The children do not return and a search and rescue party sets out after them, but the rampages of the malevolent, ghostlike cat hinders their efforts and a violent storm sets off a serious fire in the tinder-dry forest.
The children manage to survive their first encounter with the stalking catamount because of the heroism of their dog, Virgil, but the rapidly spreading wildfire drives them through a treacherous bog and other dangers, and some of their would-be rescuers become further victims of the mysterious black apparition. Their distraught parents, Ed and Marty Rollins, are part of the search party, but Martyís recent brief affair with a local fish-and-game officer, Rob Schurman, who is acting as their guide, has set off tensions that must be resolved or set aside in order for their efforts to be effective.
The catamount is wounded but this only serves to make it more vicious and unpredictable. Shifting winds threaten to endanger towns in the North Country and drive the children, the search parties, and the angry cat to a final confrontation on the edge of Lake Mackapaque.
Click here to go to Amazon.com to buy this book on-line
Or click on the "Buy Now" button to purchase this item through PayPal
$18.00 / paperback / 260 pages /
Beech River Books / 2008 / ISBN 978-0-9793778-3-9
Rick Davidson is a public school teacher, award-winning professional photographer and sometime guitar player. For many years, Rick wrote a popular newspaper column about photo tips and operated Davidson Photography and Video along with his wife, Jane. He holds a B.A. from Bowdoin College in philosophy, with a minor in English Literature. Rick and his wife have traveled extensively throughout Europe and lived near Stuttgart, Germany for over seven years. They now enjoy their rural home in Freedom, New Hampshire. His web page is www.rick-davidson.com.