How Do We Know When It's God?
A Spiritual Memoir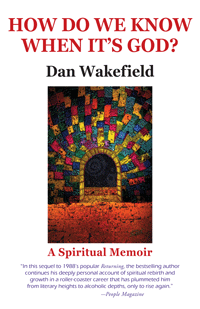 Decades of atheism and hard-living were interrupted by a profound religious reawakening—experiences recorded in Returning: A Spiritual Journey, which Bill Moyers called "one of the most important memoirs of the spirit I have ever read." The unexpected challenge of maintaining his faith "over the long haul...after the first flush of rediscovery" is the focus of this inspiring memoir. Wakefield's hard-won realization that spirituality is not static, and that each day holds the promise of renewal, will resonate for any reader who seeks to keep faith.
"An engrossing story as well as a guide to spiritual maturity….With breathtaking honesty, Wakefield shows that real spiritual faith requires that we be explorers, open to the possibility that our wrong turns and mishaps might lead to the richest territory of all."

—Publishers Weekly

"Like the title, the books asks how to discern between false idols and actual signs. Mr. Wakefield offers no easy answers. Aware that all people, even the religious ones, are liable to err, he hopes to guide readers through the rough paths of life with the understanding that in the end, faith can still hold answers."

—Elizabeth Cobbe, Dallas Morning News

"An honest, humorous look at the role spirituality has played in helping Wakefield get past various life crises….Unpretentious and well written."

—San Francisco Examiner

"An inspiring tale….With each new effort to expand his horizons, Wakefield discovers the unifying themes of love, creativity, and faith that are found on all paths."

—New Age
Click here to go to

Amazon.com

to buy this book on-line
Or click on the "Buy Now" button to purchase this item through PayPal
$21.95 / paperback / 270 pages / 5-1/2 in. (w) by 8-1/2 in. (h)
Beech River Books / 2010 / ISBN 978-0-9825214-5-8
Dan Wakefield is a novelist, journalist and screenwriter who grew up in Indianapolis and graduated from Columbia College in New York City. His books include Returning: A Spiritual Journey, The Story of Your Life: Writing A Spiritual Autobiography, Creating from the Spirit: A Path to Creative Power in Art and Life, How Do We Knows When It's God?, Going All The Way, Starting Over and New York in the Fifties. Some of his writing has been used as the basis for films and documentaries. He created and served as Story Consultant for the NBC prime time series "James at Fifteen." He is the recipient of The Bernard DeVoto Fellowship at The Bread Loaf Writers Conference, a National Endowments for the Arts Award, a Rockefeller Foundation Grant in Writing, and a Nieman Fellowship in Journalism at Harvard. Wakefield served as Writer in Residence at Florida International University from 1994-2010 and continues leading his writing workshops around the country. He may be reached at his website, www.danwakefield.com.