Murder at Stillwater Lodge
Novel / Mystery / Thriller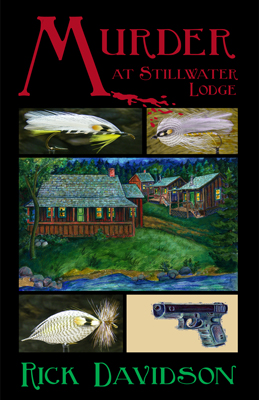 Roger Harris, a guest at Stillwater Lodge in northern New Hampshire, is violently killed at the start of a holiday weekend. Powerful spring storms wash out access roads and isolate the fly fishing enthusiasts and married alternative lifestyle couples gathered at the lodge. A flood of accidents and murders plunge them into murky waters, but the bold proprieters attempt to unravel the mystery and curb the violence.
Retired Fish and Game officer Rob Schurman and local curmudgeon Ike Roberts are at the heart of it all as this exciting story shifts gears from a whodunit to a thriller in fictional Clifford, New Hampshire (also the setting of Rick Davidson's Catamount: A North Country Thriller). Once again all is not as it seems in the peaceful, idyllic lakes and woods of the North Country.
Click here to go to

Amazon.com

to buy this book on-line
Or click on the "Buy Now" button to purchase this item through PayPal
$18.00 / paperback / 231 pages / 5-1/2 in. (w) by 8-1/2 in. (h)
Beech River Books / 2014 / ISBN 978-0-9839367-8-7.
Rick Davidson is a public school teacher, award-winning professional photographer and sometime guitar player. For many years, Rick wrote a popular newspaper column about photo tips and operated Davidson Photography and Video along with his wife, Jane. He holds a B.A. from Bowdoin College in philosophy, with a minor in English Literature. Rick and his wife have traveled extensively throughout Europe and lived near Stuttgart, Germany for over seven years. They now enjoy their rural home in Freedom, New Hampshire. His web page is www.rick-davidson.com.