GrinGa
My Love Affair with Panama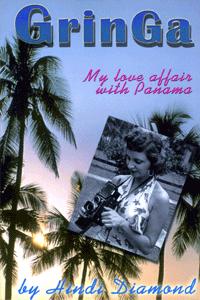 As a journalist for a prominent Panamanian newspaper, Hindi Diamond broke through the barriers of Latin American machismo and placed herself at the center of an exciting world. She interviewed world leaders, dictators, dignitaries, celebrities, and ordinary people caught up in extraordinary circumstances.
This book tells the behind-the-scenes stories of her "scoops" and sources and includes exclusive photographs of Peron in his underwear which was featured in LIFE magazine. She also tells the story of her search in the jungle to find lost King Leopold of Belgium and stories about life for Americans in the Canal Zone, including their own repertory theater. Amply illustrated with over sixty outstanding photographs.
Click here to go to Amazon.com to buy this book on-line
Or click on the "Buy Now" button to purchase this item through PayPal
$19.95 / paperback / 170 pages / 5-1/2 in. (w) x 8-1/2 in. (h)
Writer's Publishing Cooperative / 2005 / ISBN 10: 1-930149-32-8 / ISBN 13: 978-1-930149-32-8
Hindi Diamond is a professional writer and editor with 35 years of experience. She has been a foreign correspondent, a news analyst, an investigative reporter, a photographer, and has authored or edited twelve books on a variety of subjects. She has been an adjunct professor at Florida International University for six years, teaching the art of writing.