Calvin C. Waxwing
a children's book
by Eva D. Ward, illustrated by Deborah Ward York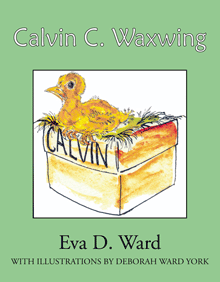 Should three young children try to rescue a helpless bird that's too young to fly or feed itself? This is the true story of a successful attempt by loving and dedicated girls. New laws have been enacted since then that make it illegal in many areas for people to rehabilitate wild creatures themselves.
Most attempts do not end as fortunately and often the animal was not truly abandoned in the first place. The parent was often nearby, watching and waiting for humans to leave the scene, and would then successfully retrieve and care for the animal. Now there are rehab shelters for injured/abandoned animals in many locations.
This book helps children think about the responsibilities and issues involved while fostering a love and respect for wild creatures and especially of the Cedar Waxwing bird.

Click here to go to Amazon.com to buy this book on-line
$14.00 / paperback / 36 pages, with color illustrations /
Beech River Books / 2006 / ISBN 0-9776514-5-2
Eva D. Ward is a former teacher who lives in Brownfield, Maine. The book is illustrated by her daughter, Deborah Ward York, who was one of Calvin's rescuers.