What the Trees Said
Life on A New Age Farm, 2nd Edition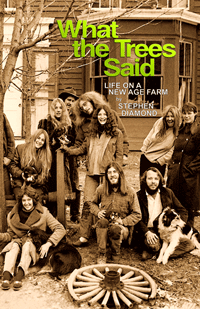 Originally published in 1971 by Delacorte Press as a Seymour Lawrence book, this story has remained a cult classic about communal living at the dawn of the New Age. This new edition is presented in much the same way as the original in order to preserve the energy, the youthful voice, and the directness and conversational tone. A brief introduction has been added, a list of illustrations, and an afterword.
Two years after the founding of a communal farm in western Massachusetts near the Vermont border, Steve Diamond describes the "magic" that has come to surround the place. A split in the Liberation News Service, an underground press news source, brought a small group of writers to an explore what it's like to get "back to the earth" and a freer life-style. Many visitors drift in and out and the commune struggles to deal with decisions about who belongs, responsibilities, relationships, and ultimately the death of Marshall Bloom, the natural leader of the group.
Click here to go to Amazon.com to buy this book on-line
Or click on the "Buy Now" button to purchase this item through PayPal
$16.00 / paperback / 200 pages / 5-1/2 in. (w) by 8-1/2 in. (h)
Beech River Books / 2006 / ISBN 0-9776514-4-4.
Steve Diamond was 23, had attended Columbia University, edited for Liberation News Service and wrote free-lance magazine articles before turning his hand to milking cows.