Mileposts
Poems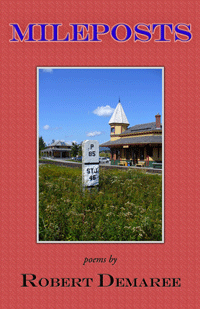 In his second book-length collection, Robert Demaree turns his attention to the place and time of life he knows as Golden Pines and takes us back to the Lakes Region of New Hampshire, whose mythic woods and meadows informed Fathers and Teachers. Again, he finds in the experiences of everyday living a poetry that is ironic, bittersweet, always accessible, and, as John-Michael Albert (editor of the 2008 and 2010 editions of the Poets' Guide to New Hampshire) notes, "demands further consideration."
"Like Ted Kooser and Billy Collins, Demaree is able to present singular experiences with a startling reality that rings true. It is his mastery of voice and diction, of sentiment and reality that allows Demaree to balance the personal with the global and still retain the reader's trust...his account is personal and therefore...specific and wonderful."
—Jillian Meyer Bledsoe, author of Leaving Newfound and co-editor, Ghoti magazine.
Click here to go to Amazon.com to buy this book on-line
Or click on the "Buy Now" button to purchase this item through PayPal
$12.95 / paperback / 86 pages / 5-1/2 in. (w) by 8-1/2 in. (h)
Beech River Books / 2009 / ISBN 978-0-9825214-0-3
Robert Demaree is the author of three collections of poems, including Fathers and Teachers, published in 2007. He has had approximately 400 poems published or accepted by more than 100 periodicals. A retired school administrator with ties to North Carolina, Pennsylvania, and New Hampshire, he has also written a history of Greensboro Day School.