Rural Churches of Northern New Mexico
Art / Travel / New Mexico -- Local History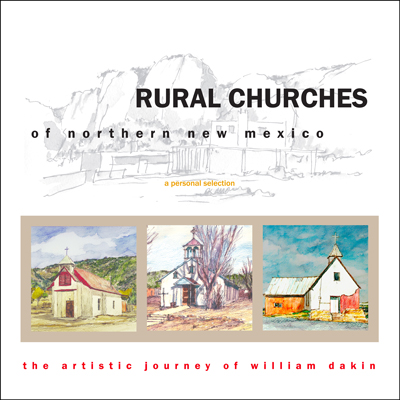 William Dakin combined a career in architecture with a passion for art. He works in the studio in several medioa, including oils and watercolors. He also likes to explore remote and difficult terrain and enjoys using watercolor pencil when painting en plein air. This collection represents that type of outdoor work along with architectural comments, local history and personal reflections. With 59 color plates, Dakin's personal selection of rural churches in northern New Mexico illustrates the variety of features these buildings display as well as giving a perrspective on the unique settings and rugged landscapes in which they are found. Some of these structures are ruins. Some are in dilapidated condition, supported by small congregations. Others have been restored thanks to the strong commitments of local communities. This artistic chrnicle is an important contribution to the record of what could once be found by an intrepid painter sensitive to the transcience of the moment and his subjects place in history.
"Bill Dakin is a well-respected architect, artist, writer and instructor at Ghost Ranch. His insights bring to life the cultrure of northern New Mexico and his work enhances the stunning landscape of the region"

óDebra M. Hepler, Executive Director, Ghost Ranch, Abiquiu, New Mexico
Click here to go to

Amazon.com

to buy this book on-line
Or click on the "Buy Now" button to purchase this item through PayPal
$24.00 / paperback / 143 pages / 9-1/4 in. (w) by 9-1/4 in. (h)
Beech River Books / 2013 / ISBN 978-0-9839367-1-8.
William Dakin is a former architect who, when possible, goes on painting, drawing and discovery trips in the mountains and deserts of the southwest. These trips are largely on unimproved dirt roads where one can come across nineteenth century adobe buildings, small churches, and explore historical mysteries.