She Plumb Ned, She More'n Plumb
poems and stories
by Dudley Laufman,

with illustrations by Jacqueline Laufman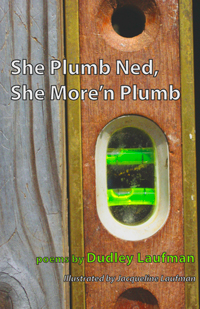 Dudley Laufman is the winner of a National Heritage Fellowship Award for his contribution to preserving some of the traditional music, dance calling, and fiddle music associated with contra dancing.
The poems are rooted in the stories told by certain colorful and eccentric characters who lived and live in the Monadnock Region of southwestern New Hampshire. Laufman was sixteen when he started collecting them. His words capture their dry sense of humor and their zany sense of what makes for a good time.
"Over all the New England landscape where all the old farms are—some still at good work—one can locate bird songs, animal cries, even human holler. Maybe a whistle. Listen closer and you'll hear Dudley there."

—Bob Arnold, author of Once in Vermont.

"If the terms honey wagon, shitepoke, flatlander, 40 quarts in a milking, the party after the party, Old Forester, Petronella, Money Musk and peavey mean something to you, you already have an inkling of the fun awaiting you in Laufman's book. If they don't, then it's time to fill some gaps in your education."

—John-Michael Albert, author of Two-Ply and Extra Sensitive and Vivaldi for Breakfast; editor of 2008 and 2010 Poets' Guide to New Hampshire.

"If you read with both ears open, you can hear the 4/4 beat behind these poems and stories, the scrape of the fiddle and the thump of boots on the floor."

—Paula Lalish, author of There's a Dance in the Old Dame Yet and Midway.
Click here to go to

Amazon.com

to buy this book on-line
Or click on the "Buy Now" button to purchase this item through PayPal
$14.95 / paperback / 158 pages, with 11 illustrations /
Beech River Books / 2011 / ISBN 978-0-9825214-9-6
Dudley Laufman has had a celebrated career as the leader of the Canterbury Dance Orchestra, playing and calling New England jigs and reels as part of the folk revival. Since 1986 he and Jacqueline Laufman have been performing as Two Fiddles, still playing and calling dances with a distinctive, earthy sound.
Laufman's poetry has been published in over 15 books and chapbooks since 1964, including Wind in the Timothy, Orchard and Garden, and The Stone Man. Walking Sticks is the most extensive collection of his life's work.