The Forest for the Trees
Poems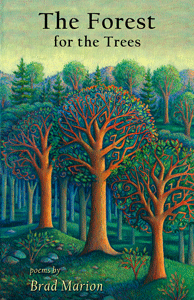 A collection of poems from 2007 through 2009, arranged in six sections: "The Ardor and the Appetites" deals with love, art, and physical attraction; "Magdalen's Hair" deals with sanctity and spirituality; "The Forest for the Trees" deals with man's place in the natural world; "The Well" deals with man's connection to the mystical world; "The Trick to Falling" deals with the nature of personal experience; "Soup du Jour" deals with connections between the fantastical and everyday life.
Click here to go to Amazon.com to buy this book on-line
Or click on the "Buy Now" button to purchase this item through PayPal
$14.00 / paperback / 128 pages / 5-1/2 in. (w) by 8-1/2 in. (h)
Wind in the Timothy Press / 2010 / ISBN 978-0-9713326-7-6
Brad Marion is a teacher and publisher as well as a writer. His other books of poetry include Art and Desperation (2007) and Still the Thrush Sings (2003). He lives with his wife Dawn, an artist and illustrator, in Center Ossipee, New Hampshire.